Today's Carling Cup match at the Emirates had Sheffield United FC (one of my least favorite clubs) licking their wounds, and true Gooners licking their lips. The Young Guns demolished The Blades, 6-0, and moved into the fourth round.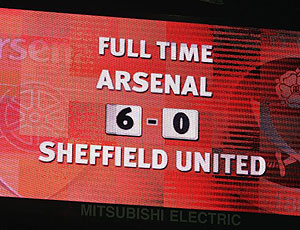 Fielding a squad with an average age of 18.5 years, Le Boss once again is using the League Cup as proving ground for his younger players. In fact, this was the youngest squad Arsenal has ever put on the pitch. The 18-man squad for the night was:
12. Carlos VELA (Age 19)
16. Aaron RAMSEY (Age 17)
17. Alex SONG (Age 21)
19. Jack WILSHERE (Age 16)
20. Johan DJOUROU (Age 21)
21. Lukasz FABIANSKI (GK) (Age 23)
24. Vito MANNONE (GK) (Age 20)
26. Nicklas BENDTNER (Age 20)
35. Francis COQUELIN (Age 17)
38. Jay EMMANUEL-THOMAS (Age 17)
40. Kieran GIBBS (Age 18)
41. Gavin HOYTE (Age 18)
42. Henri LANSBURY (Age 17)
43. Fran MERIDA (Age 18)
46. Abu OGOGO (Age 18)
47. Mark RANDALL (Age 18)
50. Jay SIMPSON (Age 19)
56. Emmanuel FRIMPONG (Age 16)
With complete disregard for the fact that I am shelling out 80 smackers a month for DirecTV for the sole purpose of getting to see Arsenal play, neither FSC or Setanta aired the Gunners match, with the latter preferring to show Swansea-Cardiff (are you having a laugh?!).
Carlos Vela scored a hat trick, Nicholas Bendtner a brace, while Jack Wilshire had one of his own. Despite it not being on the telly here, I managed to find highlights of the goals.
A great night for the youngsters! You've made us proud lads!
I was looking for a video of Generation X doing "Youth Youth Youth", but all I could find was "Wild Youth", which is also somewhat apropos.