William Gallas is once again airing Arsenal's dirty kits. The Guardian has him taking the Arsenal squad to task, saying, Arsenal captain William Gallas has questioned the ability of his team-mates to meet the demands required to challenge for the Premier League title, and has revealed the rifts in the dressing-room that are threatening to derail Arsenal's season.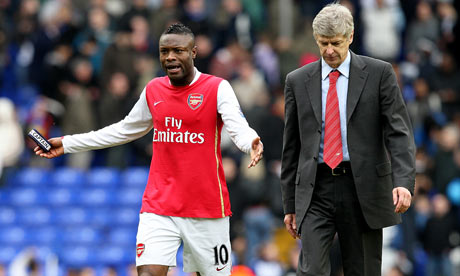 As the article continues, Gallas begins pointing fingers at other "unnamed" players (RvP?), in an attempt to deflect criticism he feels is being unfairly leveled at him:
Gallas, who was widely criticised for his actions last season when he threw a tantrum on the pitch after Arsenal conceded a last-minute penalty at Birmingham, said that incident, and the fact that he is captain, means he is now bearing the brunt of the criticism the side is receiving, even though he believes there are others in the squad who are more culpable.
"When, as captain, some players come up to you and talk to you about a player … complaining about him … and then during the match you speak to this player and the player in question insults us, there comes a time where we can no longer comprehend how this can happen.
I am trying to defend myself a bit without giving names. Otherwise I'm taking it all [the blame]. It's very frustrating," he said. "I'm 31, the player is six years younger than me."
Such strong emotion did this article engender in me, that I felt compelled to reach out to Cappy: